The Challenge
In a saturated market, Noémie's yoga classes had limited visibility. Her primary mode of interaction with her students was through Instagram and physical classes. The absence of an online booking system made managing student bookings a challenge, preventing her from creating a solid base of recurring students. Her goal was to legitimise her yoga teaching business with a unique brand identity and a user-friendly website to facilitate class bookings and offer special packages.
The Journey
We embarked on this journey with a clear vision – to establish Noémie Yoga in the digital world. Our aim was not only to make her stand out in a crowded market but also to foster better connectivity between Noémie and her students.
Our team faced challenges in developing a custom booking system capable of managing her unique needs, such as the "5 class pass" package. Off-the-shelf solutions were not only expensive but also failed to provide the personalised experience we sought to offer. The turning point in our project was the decision to create a bespoke booking system, a decision that would allow Noémie to retain more from her class fees while offering her students a seamless booking experience.
The Transformation
Harnessing our expertise in brand strategy, logo design, web development, and marketing, we delivered a comprehensive brand identity for Noemie Yoga, each element echoing Noemie's philosophy of kindness and growth.
Our central achievement was the creation of an intuitive, all-in-one website. This platform not only streamlined student interaction with Noemie's offerings, including booking and package purchases, but also promoted brand consistency across social media through custom post templates.
As a result, Noémie's visibility surged, professionalizing her brand and fostering increased student engagement. Her transformed operations now reflect a perfect harmony of seamless student interactions, boosted class bookings, and strengthened customer loyalty.
In the end, our holistic suite of services, from web design to ongoing consultancy, transformed Noemie Yoga from a vision to an impactful reality.
"Sorcery Design made the process truly enjoyable."
"I am incredibly grateful for the work Sorcery Design did for me. The team have an intuitive, creative and patient way of working.

I didn't realise how beneficial it would be to have someone who takes time to listen and really cares about the final result feeling aligned to me. That's exactly what I got – a bespoke brand and website, completely unique too, which truly feels like an expression of the work that I do. Couldn't recommend Sorcery Design enough!"

~Noémie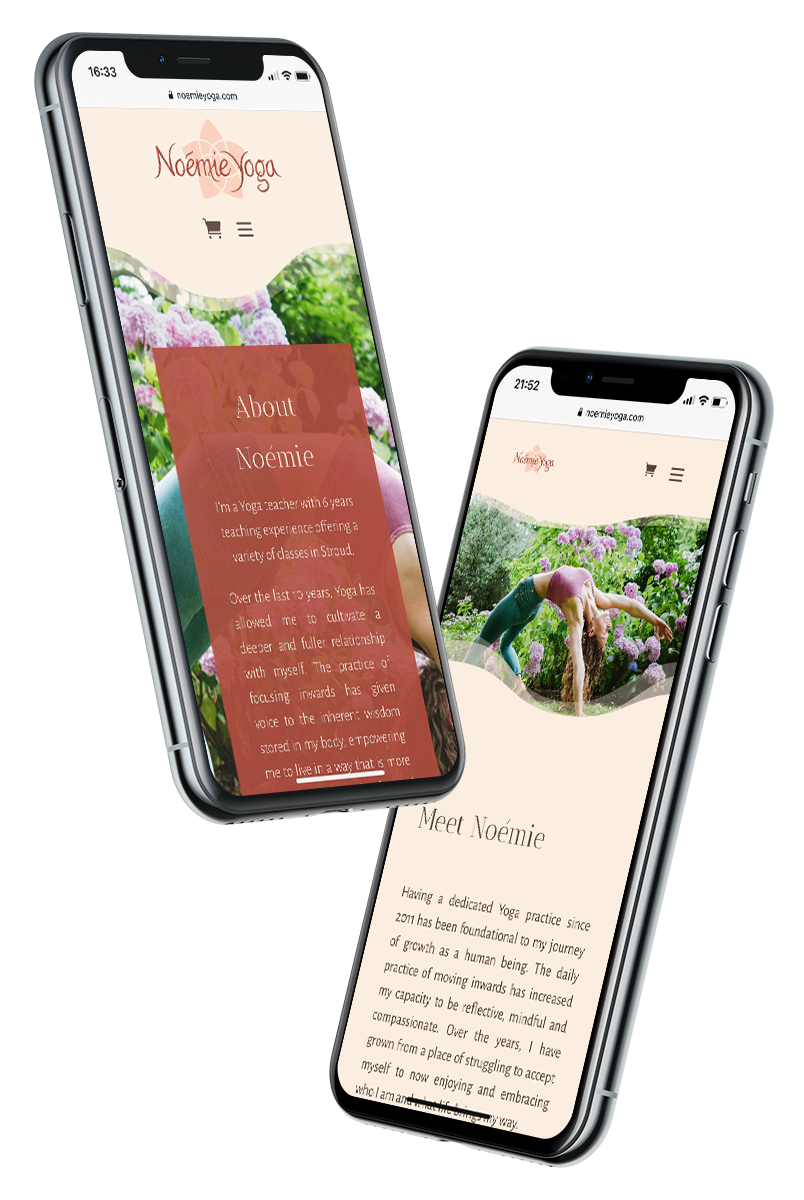 The Future
The impact on Noémie's business has been immense, leading to increased sales and improved student relationships. The project is a testament to our dedication and commitment to providing bespoke solutions tailored to our client's unique needs. We look forward to seeing Noémie's continued growth in the yoga space, and are proud to be a part of her journey.
At the end of the day, our ultimate reward is our client's success, and in Noémie's case, we are glad to have played a pivotal role in her digital transformation journey.