The Challenge
Though she was brimming with creative vision and passion, Anna was at a crossroads when it came to building a solid brand identity that would help her new venture stand out in a competitive market. She was eager to make her dream a reality, but she felt tethered by insecurity and a lack of self-belief.
Like many new business owners, Anna was hesitant to break free from the familiar styles that seemed to dominate the industry. She needed a brand that was true to her unique essence – but finding the courage to be different was her biggest challenge.
The Journey
The journey with Anna was marked by collaborative discovery and creative exploration. We engaged in multiple clarification sessions, digging deep into the essence of Anna's vision, her design philosophy, and what made her unique. It was during these sessions that we were able to tackle Anna's insecurity head-on, exploring various design avenues and conceptualising a brand that was reflective of Anna's uniqueness. The turning point came when Anna saw a brand identity draft that truly resonated with her. She decided to embrace the new, distinct brand identity, braving the unknown with the courage to stand out.
The Transformation
Our collaboration with Anna resulted in a beautiful transformation that echoed her own design philosophy. We curated a brand identity that was not just a logo or color palette but a reflection of Anna's unique style and design approach. From the website that showcases her portfolio to the meticulously designed social media visuals, Anna's brand now had a compelling, cohesive narrative:
The impact of this transformation was palpable. Anna's Facebook page gained over 440 followers, and she began to attract clients from beyond her immediate network. Our holistic approach brought to bear skills in brand design, logo design, graphic design, brand strategy, social media strategy, design templates, Facebook growth strategy, web design, and portfolio design.
Anna Czajka Interiors was no longer just an dream, but a thriving business that's adding beauty to the world one space at a time. As for Anna, she is no longer confined by the fear of standing out. She is embracing her unique style and the creative possibilities that come with it. Now, that's a transformation worth celebrating.
"Sorcery Design created a brand for me that I'm proud to show off"
"Working with Sorcery Design was amazing. They helped me to see the wood for the trees and crafted a brand identity system and a website I love and am super proud of showing off.

They also helped me with a clear and easy to implement marketing strategy – including launching my brand on social media. I went from zero to 465 Facebook page followers in a very short space of time following their advice – it's seriously good!" 

 ~Anna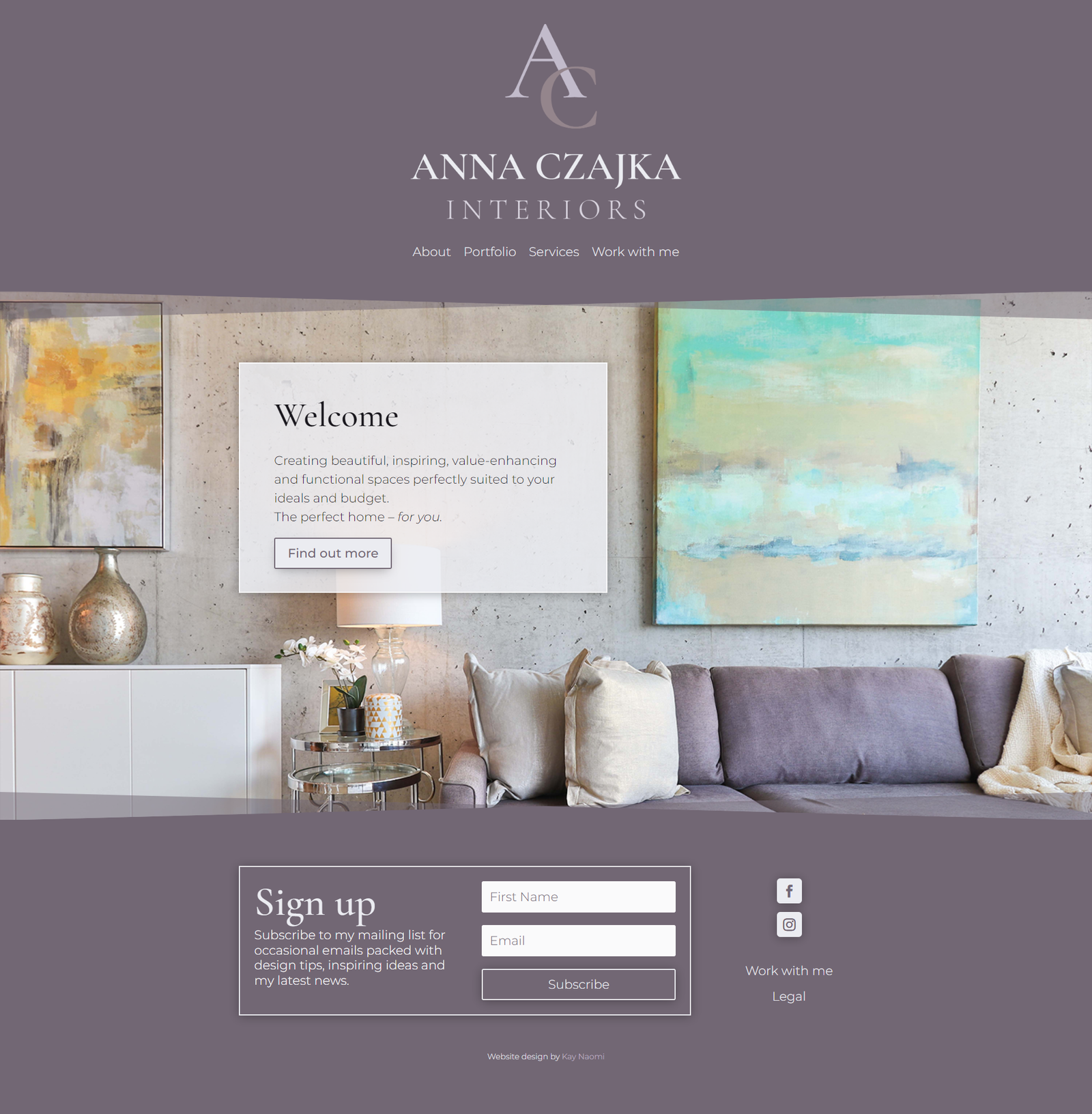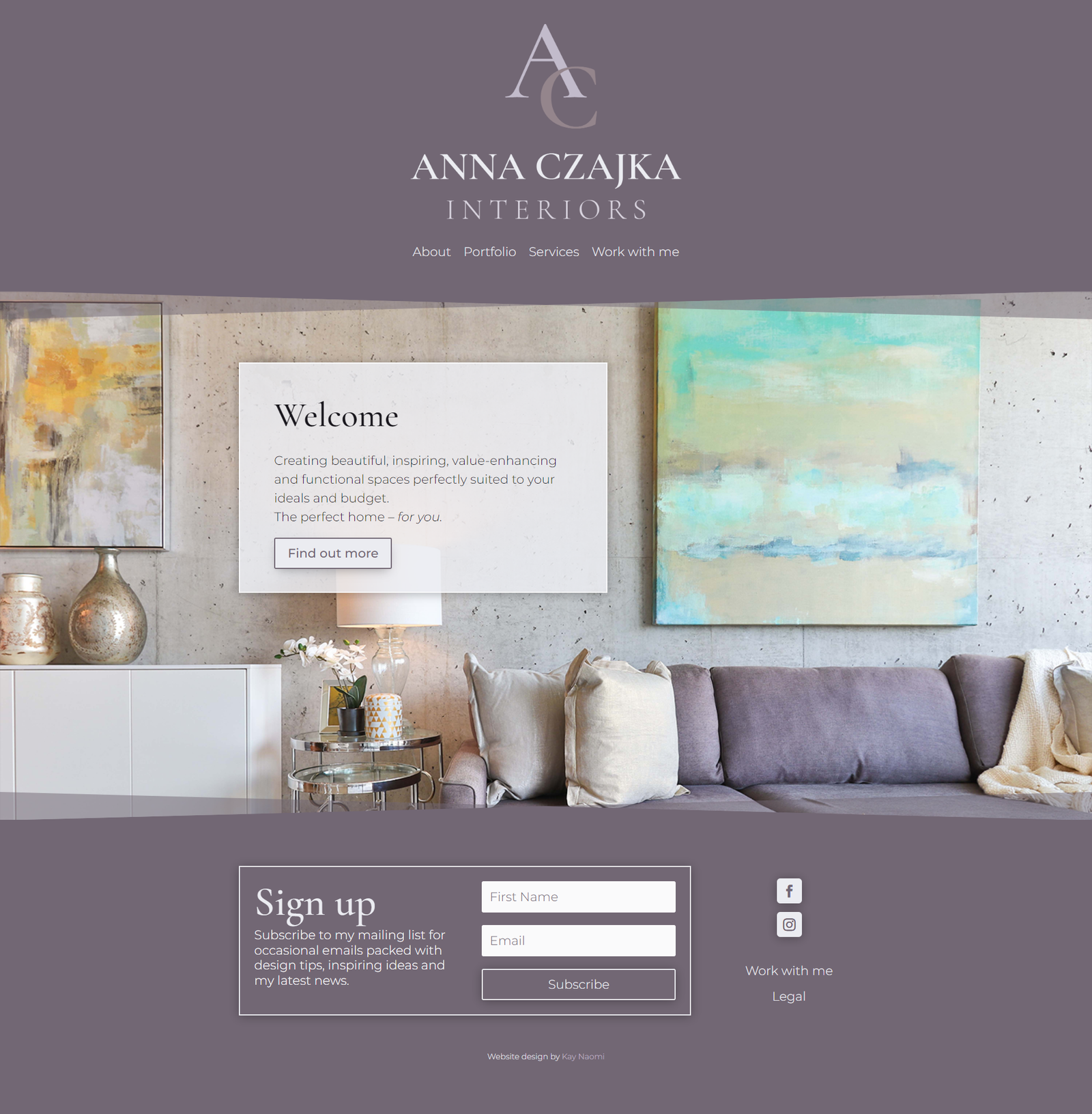 The Future
The future is bright for Anna Czajka Interiors. With a strong, unique brand identity and a growing community of followers, Anna is poised to continue making her mark in the interior design industry. She's not only creating beautiful spaces but also inspiring others to embrace their individual style and realize their dream homes. We can't wait to see what Anna Czajka Interiors has in store for the world of design in the years to come.